There's no shortage of shoulda-woulda-couldas after something unpleasant happens to us. We generously sprinkle them with tons of what-ifs for good measure, don't we?
I should have refused to take the unit as messy as it was.

The juveniles would have had a better morning if the officer before me would have done her job.

I could have radio'd for a corporal to assist in making the night shift officer do her job before her shift ended.
What if this was all intentional?
What if help was available, but the officer in the control room intentionally took her time getting the door unlocked when it was clear I needed help?
What if?
Background
When I started Palmetto Kids Cooking in 2015, I was on a mission to make the next generation strong by teaching at-risk kids how to cook real food.
Learning to cook is so important. Not only is cooking a basic life skill, but it can also spark creative expression.
Teaching one child to cook will impact that child's whole life.
Studies show some ingredients in many processed foods can negatively impact behavior, mood, and appetite. Empowering kids to make better choices is key to turning the tide on childhood obesity and diet-related diseases.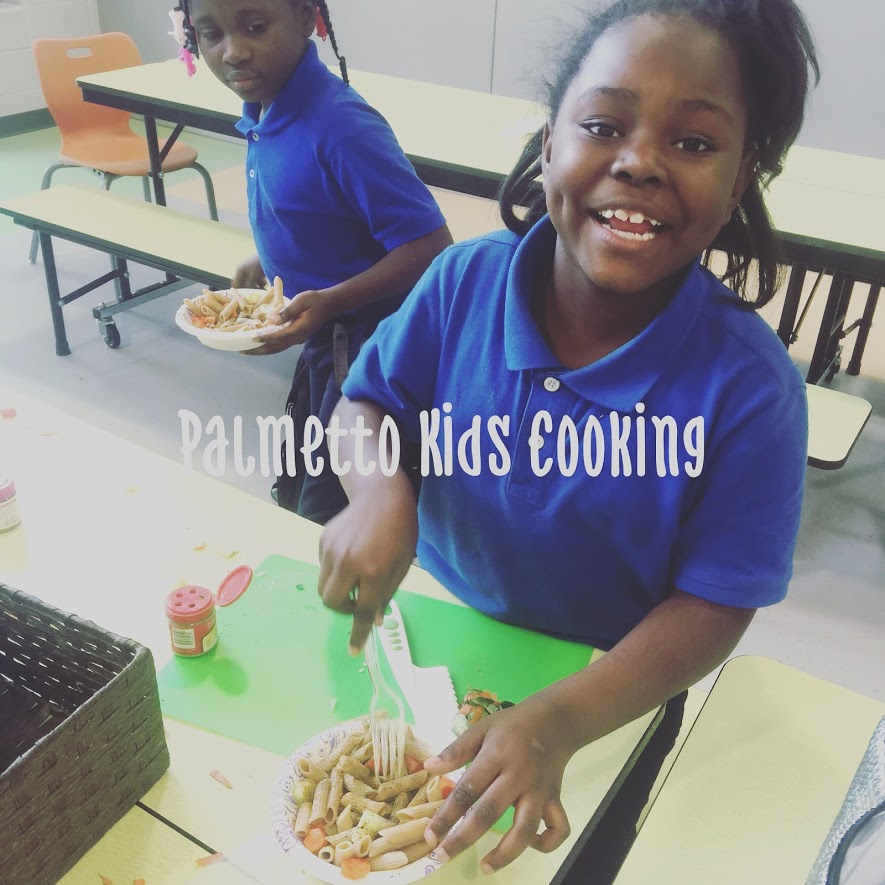 We partner with awesome organizations such as Wings For Kids to get kiddos engaged in healthy habits.
This photo was taken during Choice Time, the Wings For Kids after school program.

Chicora Elementary, North Charleston, SC.
This young lady is learning to use spices for flavor instead of salt.
All Roads Led Me To DJJ
My intention was not to become a Juvenile Correctional Officer, but rather to teach kids in the Department of Juvenile Justice (DJJ) institutions how to cook healthy meals.
What better place to teach the next generation about foods that impact mood, behavior, and ability to learn?
Interview
The impromptu interview took place when I visited the local DJJ evaluation/detention center and met the facility administrator. She shared my resume with the captain and the director of the school (DJJ has their own school district). They encouraged me to apply to DJJ.
Seemed Like A Good Fit
I was informed by the facility administrator they had recently received grant monies for a culinary program, but had no one to teach cooking. All I would have to do is go through the officers' training program first and come on board as an officer.
Once I was in her facility she added she could move me anywhere. I thought the training would be for my own protection as much as it was to protect the kids. Although training took me away from my family for five weeks, I was happy to get the training needed to better communicate with institutionalized teenagers.
I really believed I had found a perfect fit for my experience, education, and mission. I was excited!
It certainly did not turn out as planned… on so many levels.
In training I learned that complicity charges can be brought against an officer for not protecting the other juveniles if the officer chooses to not get involved to break up or prevent a fight.
Not breaking up a fight could result in losing control of the whole unit. It could mean innocent juveniles get harmed. I knew the potential dangers, but I didn't expect to be in the units. I was supposed to be in the classroom or kitchen… that is unless the facility is shorthanded. Once an officer, always an officer first.
MARCH 2019
Leave me a message below and tell about an event that caused you to look at the world differently.
You can also email me at kathy@palmettokidscooking.com. I would love to hear from you.
Continue reading the next installment of the Thumped series by clicking the link below on the right.